Happy Saturday friends! (: (:
It's a party for THE CRAFTS MEOW!! Got lots in todays post and we will be giving away both of these new sets!
For our first day we are previewing "Beautiful Spring" and "Mother and Father" designed by Nina Brackett. Her stamp designs are beautiful. You will LOVE all the previews! Isn't the flower and butterfly so beautiful?
For my card I used the flower and butterfly from Beautiful Spring set and the Mothers Day sentiment from Mother and Father set. I colored them with my Koi Watercolors (love them). For the patterned paper I used This and That from Echo Park.
And we used this Sketch for Our Sketch Challenge:
Join us for this sketch challenge, you can find all the info on the
TCM blog
.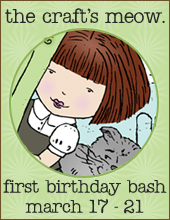 We are also welcoming new Design Team Members:

(Karen Baker, Jen Cuthberson, Amy Wanford & Jackie Rockwell)
and our March Guest Designers:
(Amy Kolling & Deborah Nolan)
DONT FORGET:
Be sure to leave your comments. Go to the Crafts Meow blog
HERE
and comment to win these two sets, you have until 9pm PDT, Friday, March 23rd. YOU COULD WIN A SET AND WE ARE GIVING AWAY BOTH SETS!
Be sure to join us March 17-21 for all the Birthday Bash fun and previews of all the new releases! I have 2 stamp sets coming out this month and I think you will just LOVE them! I do! (:
Thanks for peekin' in!! Hope you love all the previews today!
Dont forget to visit the TCM blog and all my fellow DT members to see all previews! (:
Have a great weekend! See you tomorrow!
(: (: (: Jenny