Happy Sunday friends! Good blessings to you all.
It's day 2 of our BIRTHDAY BASH for THE CRAFTS MEOW!!
For our second day we are previewing "Cherished" by Nina Brackett. This is a beautiful stamp set.
I loved coloring this stamp with my Copics. My card is one layer but this image pops right off the card. You are going to love this set!
And we teamed it up with this Inspirational Challenge:
Join us for this inspiration challenge, you can find all the info on the
TCM blog
.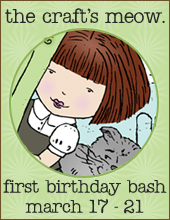 DONT FORGET:
Be sure to leave your comments on all our designer blogs, they work so hard to bring you such beautiful inspiration and I am sure they all would love to hear from you as I would. Go to the Crafts Meow blog
HERE
and comment to win this set, you have until 9pm PDT, Friday, March 23rd.
Be sure to join us March 17-21 for all the Birthday Bash fun and previews of all the new releases! I have 2 stamp sets coming out this month and I think you will just LOVE them! I do! (:
Thanks for peekin' in!! Hope you love all the previews today!
Dont forget to visit the TCM blog and all my fellow DT members to see all previews! (:
Have a great weekend! See you tomorrow!
(: (: (: Jenny