Hi everyone! Its here! Today is REVEAL DAY!!
You should have arrived here from Jen Cuthbertson's blog. If you started on my blog, be sure to head over to The Craft's Meow Blog to start from the beginning. (:
Here is my first card with my new set "Spring is Here".
Patterned paper is from My Minds Eye Blush.
And here it is "SPRING IS HERE"
Love it? So many things you can do with this set!
And my second set "GET WELL SOON"
What do you think? I just love all the options for this set, and the xray owl is a HOOT!
These sets are available NOW over at The Crafts Meow STORE!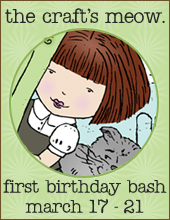 DONT FORGET TO COMMENT ON EACH DESIGNERS BLOG AND TCM BLOG TO BE ELIGIBLE TO WIN ALL 6 NEW RELEASE SETS!!
Thanks for stopping by and I cant wait to hear your thoughts on these sets!! I hope you LOVE them!