Happy Saturday friends! (: Hope you are enjoying this beautiful day.
I went to Michaels the other day and picked up a couple of SMASH books for myself and my daughter. She really wanted to do one as well. We have been having fun and its been so great showing her how to journal. I love passing on my love for crafting. Shes become quite the little crafter over the years.
Here is my girl working on her Smash book:
Isn't she just adorable? Having fun learning all about journaling and shes doing a great job.
And here are some photos of my Smash book:
I have a LOVE of Owls as I am sure most of you know ;) lol I also love Clouds, Vintage cameras and lots of other things that I haven't journaled yet.
Working on my smash page - I am. Its all about me and who I am.
Here is what I have started so far on my about me pages.
My smash page for giggles. Some funny pictures my daughter and I love.
And I am working on pages about my Happy girl. I miss her so much. She passed a couple of years ago and I think about her everyday. Of course I have a tattoo of her on my arm so that is a reminder but I never want to forget. She was my best friend. This was my favorite photo of her.
I also just got my photo pocket A pages from Becky Higgins & Amazon so now I can start on my Project Life. I have been waiting for them to come back in stock for awhile now and as soon as they did I snatched them up. I also got the new Dear Lizzy goodies and new punches from Jenni Bowlin. I am having fun getting started. Im working on my first pages which will be of CHA 2012.
As you can see in the background, im also watching Downton Abbey. Any of you fans of the show? I love period dramas. This one is wonderful. If you haven't heard of it, I encourage you to check it out. You will be hooked as I am thanks to Laurel Beard, Linda, Chari Moss and Mary Dawn. They got me started watching the show and I just love it. You can check it out HERE. I can't wait for Season 3 but I have to wait till October :( ... I just dislike long waits.
I also plan to do a giveaway of my newest set for The Craft's Meow - Owl See You in the Spring but I am behind a little on my packages that I need to mail so I want to hold off till I am caught up but I promise I will be giving one away either this weekend or next. IF YOU HAVE BOUGHT ANY OF MY STAMPS - I WOULD LOVE TO SEE YOUR CREATIONS ... please email them to me at jennysuchindesignsATgmail.com (change AT to @) and I will share them on my Facebook artist page.
Well I must be off. Busy weekend planned. Baby shower today for my good friend and Sunday we are doing a big birthday party for my daughter. Going to be a very fun weekend.
Thanks for dropping by!! (: (:
Have a wonderful weekend!!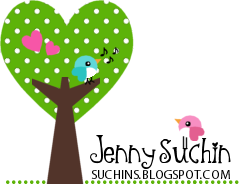 Disclaimer: Photographs on this blog and posts are copyright Jenny Suchin. Please do not 'pin' to Pinterest my personal photographs of my family. Thank you. All rights reserved.