Hi everyone!! Hope your enjoying your week!
Just wanted to let you know I have some GREAT giveaways happening right now on our Facebook page! Head over and join us HERE!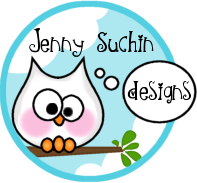 And thank you to everyone for your kind words of support on my Designs! Be sure to come join my new Facebook page, Jenny Suchin Designs. I am also doing a giveaway over there!! And will be doing many more as my new sets release with The Craft's Meow, don't forget to get your sets!! Also I announced that if you are published with one of the stamp sets I designed in a major crafting magazine, I will give you $20 in the form of cash (paypal) or a gift certificate to the online store of your choice!!!
Anyone waiting on your challenge prize or package from me, they have all be mailed so watch your mailbox for your package!! :) :) Thanks for being patient while I was down.
We also have some GREAT regular and new sponsors lined up for the rest of this year, so be sure to stay tuned for allot of fun and exciting things to come!! :)
On a personal note, the first day of school for my daughter, she tripped and fractured her ankle. So she had to have a splint put on and we are waiting on a referral to the Orthopedic doctor. Hopefully they will call today and they can put a cast on her. Poor kid, already injured and school just started. :\ And also my hubby was cut off in traffic and he fractured his knee and tore a muscle. So needless to say its been a little crazy around here with my injury, my daughters and my husbands injury. I hope and PRAY we get some good luck coming our way soon! Thank you for those that have emailed me and sent cards, I appreciate them very much!! :)
Hope you all have a wonderful week! :) :) :)